NEW CHRISTMAS BOOK BY EVELYN MC GLYNN
FRECKLES THE ELF CHRISTMAS MAGIC IN IRELAND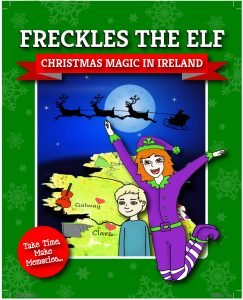 I have just wrote my fourth book this year, so I  suppose that makes me an author! (View them all here)Although to be honest I still find that hard to accept, the title of writer suits me better.  My most recent book is a children's Christmas story called Freckles The Elf Christmas Magic In Ireland.
A magical  book sprinkled with opportunity to create memories and traditions with those close to you, while sharing the book during the festive season. Born from a family tradition in our own home of reading a book on Christmas Eve to the family, one that still continues even though the now grown up kids are in their twenties. they in turn will hopefully carry this tradition into their own families in their more mature years!
Meet Shaun and his  family who leave New York  just before Christmas for a new life in Ireland. His parents having left during the recession are returning "HOME" to  a new Ireland, a land of growth and possibility.
Discover, through this magical story how we are all part of a greater global family and how each kind and loving act will help Santa find us all on Christmas Eve through his #GPSChristmasHeartbeat computer.
But will it transmit from Ireland? Will Santa find Shaun on Christmas Eve? Can Freckles The Elf and her new Irish friend Mulligan succeed in their mission to deliver an unforgettable Holiday season for Shaun and his family in their new Irish home?
Join in the adventure and no matter where you are in the world experience the magic of Christmas in Ireland…
Minister of state for the Diaspora and International Development Joe McHugh T.D
delivered the foreword for the book and includes the message
"This story  beautifully sets out the situations and feelings that countless Irish abroad experience and it offers a charming story of understanding the importance of heritage and connectedness, of coming home to Ireland and of course getting lots of presents from Santa!"
The book is available now to buy now.
Facebook  page  Freckles The Elf
Twitter  @frecklestheelf