Evelyn Mc Marketing uses her own experiences in both life and work to deliver innovative marketing solutions.  Networking is her hobby! She loves working with new and exciting clients to help them breathe life back into their business.
Multi-talented professional who wears many hats; a published author, a skilled educator and  marketing consultant with a passion for everything she does.
Evelyn Mc Marketing provides strategies for social media, communication, blogging, event management, PR, training, business development and project management of every kind.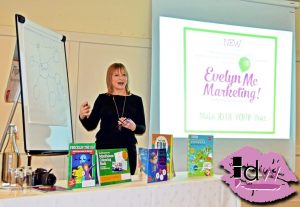 As a long-time member and Communications Manager for the Donegal Women in Business Network, Evelyn is also committed to "giving" and "corporate social responsibility" in business and looks forward to promoting the network and incorporating giving as part of raising the profile of the group and its members.
Before she began consulting and mentoring, Evelyn was actively involved in the community and not-for-profit-sector, promoting and marketing groups and events on a low or no budget – something she continues to do for her clients.
Evelyn applies her storytelling abilities to simplify business by transforming relatable characters like Molly's Eggcellent Enterprise and Donegal Mammy into resources and workshops.
Evelyn uses a unique skill-set and love of marketing to inject innovation into strategies and campaigns to increase clients' profits and brand awareness.
Evelyn brings ideas to life from conception to completion and can do the same for your brand or business.
For more information check out Our Services or get in touch today.